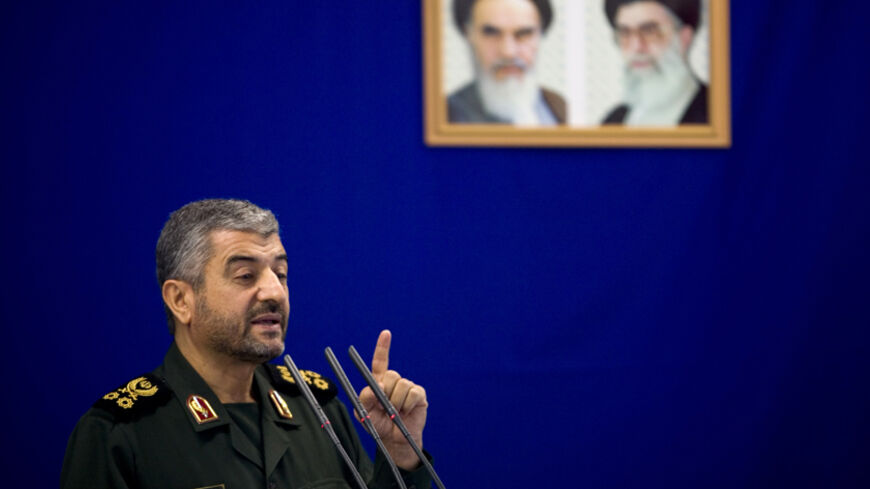 A leaked audio file, including a private conversation between two high-level Islamic Revolutionary Guard Corps (IRGC) officials in 2018 has uncovered a case of massive financial corruption involving top IRGC commanders.
Among those directly implicated are former IRGC Quds Force commander Qasem Soleimani, Speaker of Iran's Parliament Mohammad Bagher Ghalibaf, former IRGC Coordination Deputy Jamaloddin Aberoumand, and head of IRGC's Intelligence Organization Hossein Taeb.
In the 50-minute audio recording, published by Radio Farda, the then IRGC commander-in-chief Mohammad Ali Jafari and former IRGC Economic Affairs Deputy Sadegh Zolghadrnia discuss a case of fraud involving the Quds Force and Cooperative Foundation of the IRGC, and the Municipality of Tehran.
Allegedly, funds meant to finance Quds Force activities had somehow disappeared in the dealings between Tehran Municipality and a holding affiliated with IRGC's Cooperative Foundation.
Zolghadrnia tells Jafari that Ghalibaf, the then Mayor of Tehran, was deeply worried about a case of embezzlement between Tehran Municipality and IRGC's Cooperative Foundation, where Abroumand's team was found to be short of 8,000 billion tomans (around $3 billion at the time).
Ghalibaf had asked Zolghadrnia, IRGC's Economic Affairs Deputy at the time, to sign a false contract between the IRGC and Tehran Municipality for the amount of 8,000 billion tomans to justify this deficit, Zolghadrnia claims in the recording.
Zolghadrnia says he refused to sign the contract when he met with Ghalibaf in a mosque close to his home. "I told Ghalibaf that it is criminal. I told him it would harm him, and it would harm me and Jafari, and that I would not sign," Zolghandria tells Jafari in the audio file.
"I told Ghalibaf you gave 8,000 billion tomans to the Peugeot project instead of Rasa (a Yas Holding-affiliated company unrelated to the Peugeot project)," Zolgadrnia claims he said in his second meeting with Ghalibaf.
Jafari then validates the events and says that Ghalibaf was extremely upset about the memorandum not being signed, and says he does not know how they would have coped with the consequences if it were signed.
In another section, former IRGC commander Jafari confirms IRGC Quds Force's ex-commander Qasem Soleimani was aware of the corruption and upset about how it was dealt with, and had disucssed the matter with the supreme leader Ali Khamenei.
"He (Soleimani) was upset with how you (Zolghadrnia, IRGC's Economic Affairs Deputy) and IRGC's Intelligence Organization had dealt with Yas (a holding affiliated with IRGC's Cooperative Foundation)," Jafari says in the audio, referring to Soleimani being unhappy about funds not reaching the Quds Force.
Based on what Zolghadrnia says in the audio, Khamenei had ordered 90% of the funds earned by Yas Holding to go to the Quds Force, and the remaining 10% to be spent on IRGC's general needs. Jafari adds that Taeb, head of IRGC's Intelligence Organization, a close associate of Khamenei's office and his son Mojtaba, was supportive of Tehran's Mayor Ghalibaf in the matter.
Yas Holding was later dissolved following widespread corruption involving its executives, who were arrested in 2017.