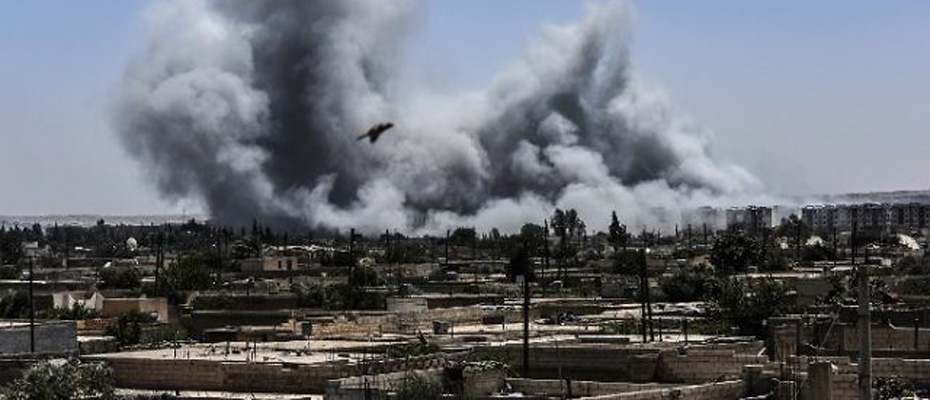 Smoke billows following an airstrike on the western frontline of Raqqa, Syria, July 15, 2017. (AFP/Bulent Kilic)
Tehran is actively participating in Syrian war, supporting Bashar Assad's regime
At least 8 Iranian and "gunmen loyal to them (Iran)" killed and 11 others wounded in a midnight attack on Syria's Homs on Monday, the Syrian Observatory for Human Rights reported.
"A column of Iranian Forces and their loyal gunmen of Syrian and non-Syrian nationalities was hit by warplanes that were not know if they belong to the International Coalition, as they pass near al-Tanf area which is controlled by Forces of the International Coalition and the factions supported by them in the eastern countryside of Homs," the report further explained.
Despite the international calls for its departure, Tehran is actively participating in Syrian war, supporting Bashar Assad's regime.
The head of Iran's Martyrs Foundation announced in 2017 that 2,100 Iranian combatants had been killed in Syria while "defending the shrine." The actual number is believed to be much higher than the official report.
The term "defending the shrine" (Modafeaaneh Haram), referencing the Sayidda Zaynab mosque in the southern suburbs of Damascus, is the official designation of Iranian or Iranian-sponsored combatants in Syria.