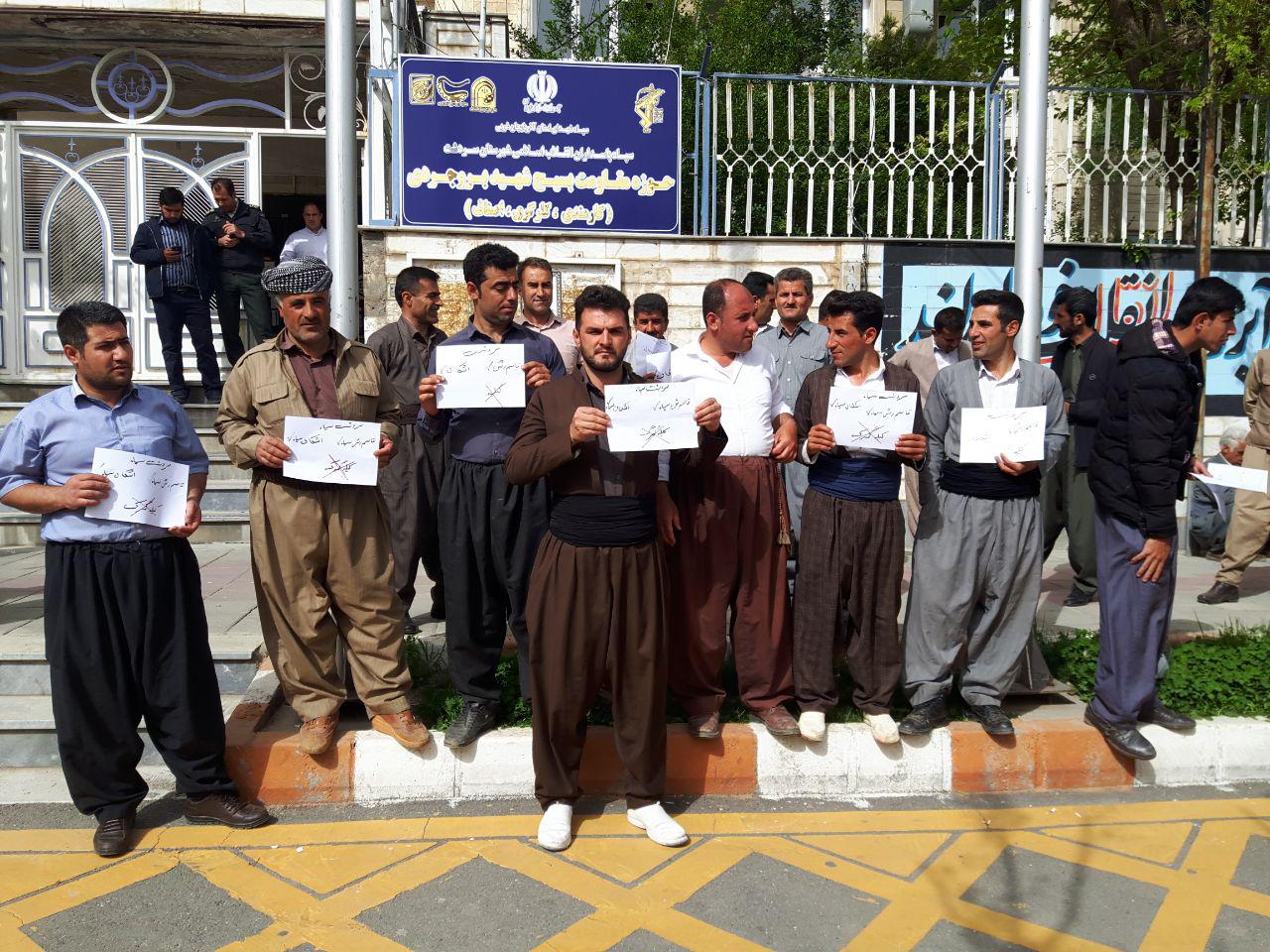 Kurdish shop owners and kolbars in Sardasht hold posters in protest to high tariff and closing borders
As Kurdish Iranians has been protesting whole week against the closing borders and high tariffs, the Kurdish opposition parties say they are also backing the demonstration, called it a peaceful protest by people to obtain their basic rights.
In a joint statement, the Kurdish Iranian political parties based in Iraq, showed support for the on- going demonstration on Thursday, backing people in their call for a better financial situation especially in border towns and cities.
Shamal, a civil activist from Bana confirmed to AVA Today that shops are still closed inside the city and the protest is continued since they have not received response from the government.
Activists holding campaigns in Bana, are showing the financial difficulties and residents 'life situation using symbols such as rolling out empty plastic rug throughout the street to illustrate that people's eating tables have got empty.
Payam Noor University of Mariwan has also supported the protesters in a statement on April 18th, saying "no to the closing borders."
 "If government hasn't respond by the beginning of the next week, we will expand the demonstration," a student told AVA Today.
The local authorities have accused foreign enemies of encouraging the demonstration, but they have not mentioned whom they are believed to be behind the protest. 
According to Mohamad Falahi, the governor of Bana, the local authorities have been meeting in the past with the representative of people and shop owners at least 18 times discussing importation of high quality goods with lower price.
 "Their aim (outside enemies) isn't to show sympathy to the people, their aim is rather to encourage unrest and violence," Falahi said.
Protesters on the other hand accusing the security forces of distract the peaceful demonstration and create problems. 
 "We want them (authorities) to hear us, instead of making more troubles. They do so because they want to end the demonstration as soon as possible," an activist talked to AVA Today under the condition of anonymity.
Abdullah Ramazanzadeh, Iran's ex-spokesman, has recently asked Iran's president, Hassan Rouhani, in a tweet to deal with people's financial problems in the border before it gets too late.
 "Mr. president, send a delegation to the border cities and see what your minister has so far done to the miserable people of Saqez, Bana and Mariwan," he said.
This is the third protest in Iranian Kurdistan against the decision of closing of the borders and increasing tariff since the beginning of 2018. Shop owners of Baneh and Saqez, another Kurdish city, has closed their shops in protest for three days, earlier this month.