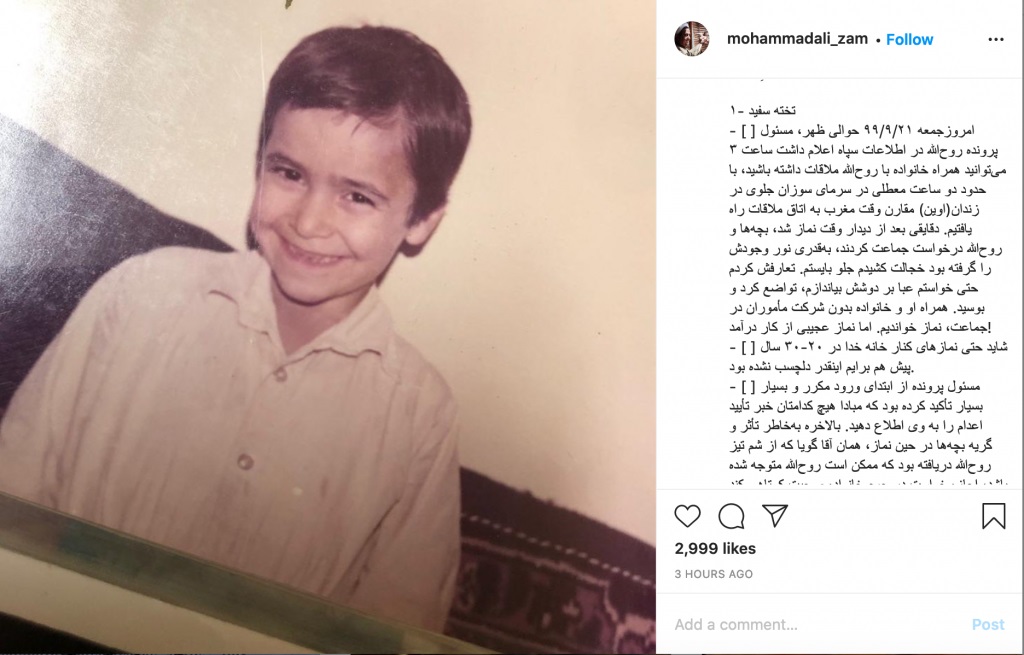 The father of dissident Iranian journalist Ruhollah Zam has revealed the identities of the two spies involved in his deception and subsequent return to Iran, where he was put on a "sham trial" and sentenced to death.
Mohammad-Ali Zam has posted a series of statements on Instagram in recent days relating to his son's execution, in which he states that Zam's abduction was made possible by him being tricked into coming to Iraq from France through two Iranian regime operatives.
The statement released on Instagram on Sunday, Nov. 21, states that through the inquiries made from Zam's family, friends, witnesses, and his lawyer in France, and from what he himself said during the last months of his life in prison, it was discovered that the groundwork for the plot to abduct him was laid by a man named "Vafa Nikfar" in Australia, and a woman named "Shirin Najafi" in Turkey, saying that they were the two perpetrators involved in deceiving and luring him to Iraq.
Shirin Najafi is said to have been Zam's colleague of two years in AmadNews, his news channel, and had infiltrated his family, according to the statement. Following Zam's abduction in 2019, she was identified by AvaToday as an agent of the Islamic Revolutionary Guards Corps, involved in setting the trap for his abduction in Iraq.
The statement by Zam's father confirms this, saying she used his admiration for the leadership style of top Iraqi Shia cleric Ayatollah al-Sistani to lure him to Iraq, having falsely presented herself to Zam as a defector and divorced family member of a high-ranking regime official, and claiming to be acquainted with individuals in Sistani's office.
The statement adds that she gained Zam's trust by providing some allegedly confidential (inside-establishment) information for his anti-regime AmadNews channel during the two years that she worked with him. She also assured and convinced him of Ayatollah Sistani's definite future cooperation.
The statement states that Vafa Nikfar introduced himself as an Australian-based investor willing to financially sponsor an AmadNews TV channel for Zam if he moved to Australia, and to that effect provided him with an invitation letter to apply for a visa at the Australian Embassy in Paris. The letter turned out to be fraudulent, and Zam was accused of forgery by the embassy staff.  It adds that after this, Nikfar fails to answer Zam's repeated calls, leaving him in a vulnerable and disturbed mental state, which Shirin Najafi took advantage of, assuring him of collaboration with Ayatollah Sistani instead.
Najafi reminds Zam how she repeatedly warned him about Nikfar, and says that she is Najaf, having prepared Ayatollah Sistani for his cooperation with Zam. She shows him a photo of a million-dollar check allegedly written by Sistani for the launch of Zam's AmadNews TV channel and says she has convinced him to do an interview for the launch.
She sends him the address of Iraq's Embassy in Paris, where he is promptly issued a visa, allegedly out of hours on the evening of Oct. 11, and books a flight for him to Baghdad for two days later on Oct. 13. Once there, he is picked up at the foot of the airplane steps by four "stout" Arabic-speaking men and put into a vehicle. When asked where Shirin was, Zam was told she was waiting for him in the (arrivals) hall.
Following Zam's capture and forced return to Iran in 2019, he was tried and convicted of "Corruption on Earth", a charge often used in cases involving attempts to overthrow the Islamic Republic establishment. He was sentenced to death and hanged in December 2020. Zam was apparently executed for the work he did on his Telegram channel Amadnews, which had over one million followers and which the Iranian regime believed had helped inspire the nationwide anti-government protests of 2017-2018 in Iran.
In the Instagram statements, Zam's father, who was himself previously an Islamic Republic official and held positions in the establishment, says that the Supreme National Security Council in Iran, chaired by president at the time Hassan Rouhani, and its secretary Ali Shamkhani, were complicit in his son's execution.
Zam's father also makes reference to the restrictions imposed on his son's prison visits, and the sham nature of his trial and court hearings in the statements. He mentions that during one of the visits, in the presence of the person in charge of the case, guards and cameras, Zam had said that they would start rehearsing with him a few days before each court session about what he should say and how he should say it.
Prior to making these revelations, in an Instagram statement released on Saturday, Nov. 20, in relation to a claim made by a former Iranian intelligence agent that Zam was traded for a French security officer, Zam's father had called on France, Iraq and Australia to explain if they had a role in his son's abduction and return to Iran, and if not to officially deny it.
Despite seeking clarification, Zam's father described the allegations made by the "burnt" security agent, Akbar Khoshkushk, as "false storytelling" aimed at " deceiving public opinion and creating an accomplice to lessen (Iranian authorities' accountability in) the criminal act" of his son's execution.