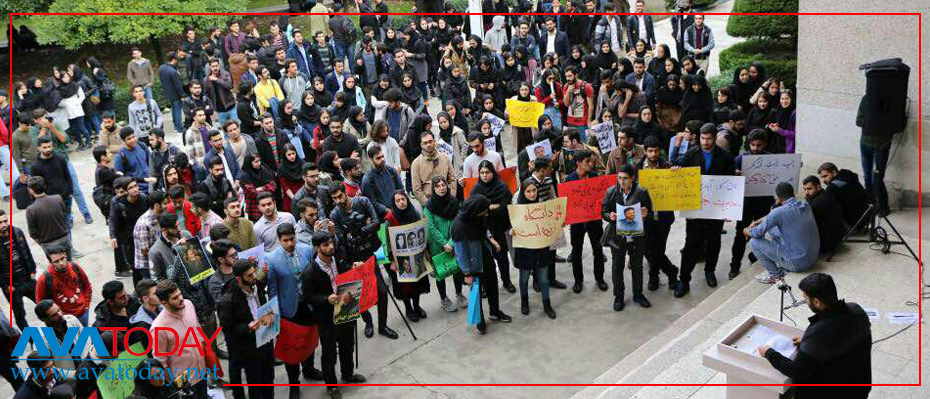 Students of Babol Noshirvani University of Technology, who gathered on Wednesday to celebrate the Student day in Iran, criticized the Supreme Leader and President of Islamic republic for jailing activists.
"While we gathered here to celebrate the Student Day, the president of the country (Hassan Rouhani) has travelled to Semnan Medicine University to give a speech to the students," Avatoday received a video of a student giving a speech during in the gathering.
"The President is probably going to talk about the value of Iranian passport and this is exactly at a time when Farhad Mirsalim and Esmaeel Bakhshi (two worker activists) are in jail in a very terrible situation, "said the student.
"We are still happy that at least the president goes to universities and talk. There are some officials like the leader (Khamenei) who never go to universities to meet the students," he added.
December 7th was named as student day in Iran after three students of Tehran University were killed in a protest against Iran-England relationship in 1953.
A video received by Avatoday late on Wednesday shows Iranian Revolutionary Guard Crops' (IRGC) Basij forces attacking students of Amirkabir University of Technology (AUT) who gathered in front of the university.
Students of several Iranian well-known universities have gathered in support of workers of Haft Tappeh Sugarcane Factory and Khouzestan Steel Company (KSC) who has been on strike for more than a month against delayed salary and privatization of the factory.
The workers of the two factories admired the support of students by shouting "thank you students, thank you," among other slogans.