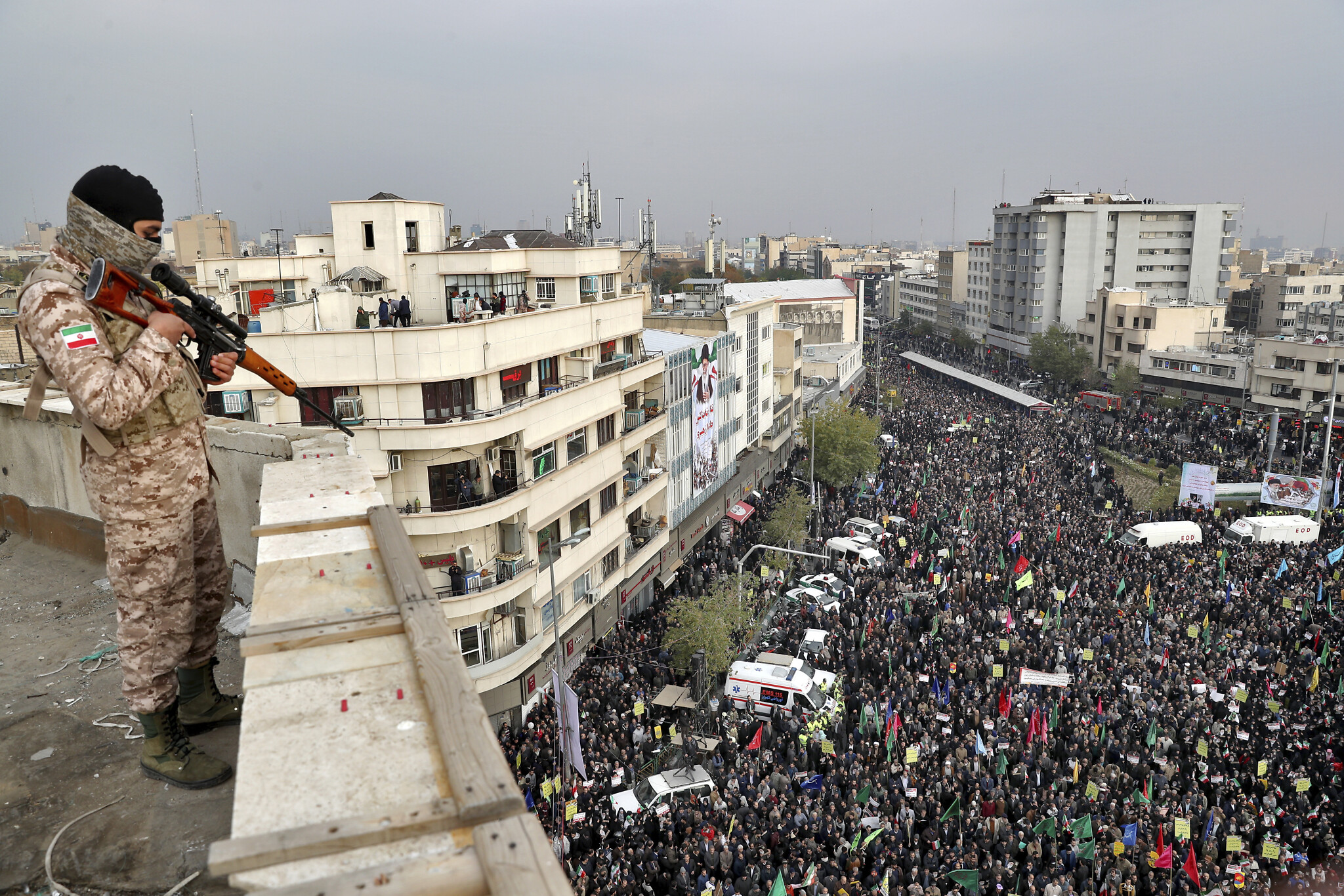 An Iranian soldier stands guard overlooking a pro-government rally organized by authorities in Tehran, Iran, November 25, 2019. (Ebrahim Noroozi/AP)
Afghan and Iraqi citizens, and dangerous criminals were involved in the clampdown on Iranian protesters in 2019, according to the testimony of Witness 458 on Saturday at the ongoing Iran Atrocities Tribunal in London.
Witness 458, a former member of the Imam Ali (anti-riot) Battalion, part of IRGC's Basij forces, testified online with his face covered, on the second day of the current round of the tribunal's hearings.
The witness told the panel that among the forces deployed to crush the protests included violent criminal "thugs", and members of Iraq's Popular Mobilization Forces and Afghanistan's Fatemiyoun Brigade, Iran's proxy militias in the region.
He said he and others from poor families were coerced into joining the Basij, adding that many of those recruited were children, and that they were not allowed to call home or contact anyone.
The recruits were ordered to target protest leaders, to beat and arrest them, and to set banks and gas stations on fire in order to frame protesters as rioters, and justify their suppression and arrest.
He confirmed that they were authorized to open fire on protesters, and told to shoot them above the waste to crush and end the protests, and were given Kalashnikovs, pellet guns and tear gas.
He witnessed many being shot dead and fatally wounded.  He believes many of the injured people would have survived if they had received medical treatment on time, but instead they were taken to Basij bases and viciously beaten.
According to a report by Reuters, around 1,500 civilians were killed during the crackdown on Iran's protests in 2019. Amnesty International has reported the killing of at least 304 protesters by the Iranian regime's security forces in November 2019, among whom include at least 23 children.
The second round of hearings in the London-based Iran Atrocities Tribunal kicked off behind closed doors on Friday, February 4, with only a few journalists allowed to attend, in consideration for the security of the witnesses.
Also known as the Aban (November) Tribunal, this independent unofficial "International People's Tribunal"  began hearings in London last November, with the aim of investigating the killing and wounding of protesters in 2019, when nationwide demonstrations erupted in Iran following a hike in fuel prices.
The tribunal has been established, on behalf of the victims' families and the survivors, by three non-governmental human rights organizations; the London-based Justice for Iran, the Oslo-based Iran Human Rights and the Paris-based Together Against The Death Penalty - Ensemble Contre la Peine de Mort (ECPM).
The Iran Atrocities Tribunal has so far accused 160 Iranian officials of crimes against humanity during the November 2019 protests, based on the evidence of 440 witnesses.
Among the Islamic Republic officials implicated are the Supreme Leader Ali Khamenei, the former President Hassan Rouhani, and ex-judiciary chief and current President Ebrahim Raisi