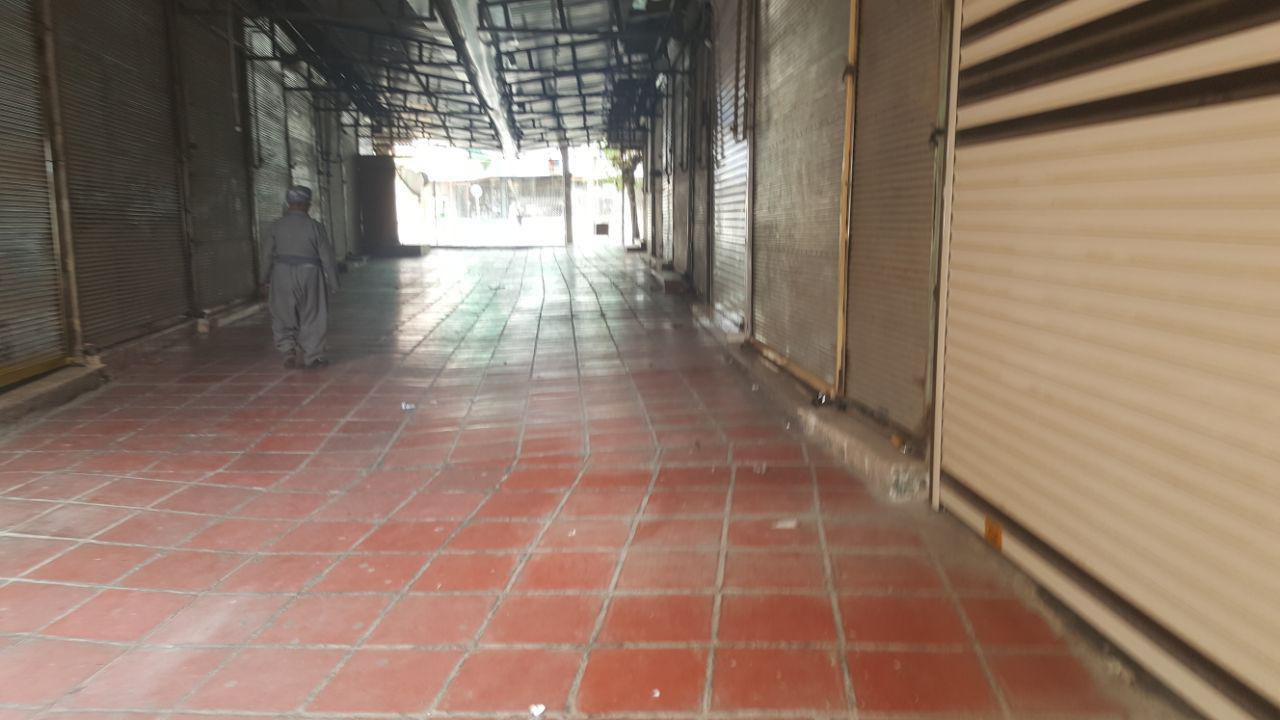 An old man walks through closed shops in Iranian Kurdish city of Baneh
Hundreds of Kurdish citizens in the border towns and cities of Iranian Kurdistan have continued on Tuesday to protest the government's failure to re-open the closed borders with Iraqi Kurdistan and resolve resident's financial crisis, participants talked to AVA Today's reporter.
A shop owner from Bana explained that protesters ask for an immediate response from the authorities.
 "We are asking the authorities to re-open the borders and decrease the new tariff to its previous price," he talked to AVA Today under the condition of anonymity, adding that the protester will not leave the street unless they meet their demands.
 The demonstration has entered its fourth days on Wednesday with two other Kurdish cities, Mahabad and Piranshar, joining the protest in Bana, Saqez, Sardasht, Javanrood and Marivan.                                                              
Sources inside Bana told AVA Today that the city's authorities have met with the protester's representatives but claimed that "the issue is out of their authority, but Islamic Republic's representative will soon visit the city to meet the residents."
Saeed jalili, the government representative from Tehran has visited Marvian today and arrived late evening in Bana.
 Tehran closed border gates between Iranian Kurdistan and Iraqi Kurdistan Region after an Independence referendum held on September 25 by the Kurdistan Region. Iranian government has also increased the tariff in border areas.
 A civil activist, talked to AVA Today on condition of anonymity, accused the the Iranian Revolutionary Guard, known as Sepah, of corruption.
 "Based on the amount of trade in the last 7 days, 360 milliard Toman is missing from the collected tariffs in the border areas," he claimed on Wednesday.
Another Kurdish Kolbar said they are "now paying 17,000 Toman per Kilo to a dealer that would help them entering the imported goods from the border checking points."
 "The dealer is taking only 2000 Toman per Kilo and the rest is going to the pocket of Sepah (Iran's Revolutionary Guard," he added.
 On Tuesday protesters rolled out empty plastic rugs in the street as a symbol of their empty tables at home.
 Records received by AVA Today shows Arash Lehoni, Javanrood's governor among the people trying to calm down the crowds. "We passed out your problems and issues to the higher authorities. There is nothing we can do right now and you should wait to hear back from the government," he said.
 Activists in Marvian accused the local authorities on Tuesday of encouraging violence and unrest among the peaceful crowds.
 This is the third protest in Iranian Kurdistan against the decision of closing of the borders and increasing tariff since the beginning of 2018. Shop owners of Baneh and Saqez, another Kurdish city, has closed their shops in protest for three days, earlier this month.