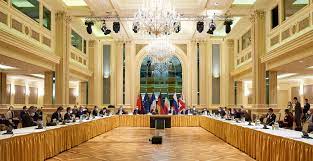 Iran is ready to resume nuclear negotiations with world powers in Vienna on October 21, an Iranian lawmaker said Sunday after a meeting with Foreign Minister Hossein Amir-Abdollahian.
 The talks were suspended in June after Ebrahim Raisi won the presidential election.
 The minister said that "talks with the 4+1 Group will restart on Thursday in Brussels", Ahmad Alirezabeigui told Fars news agency after a closed-door session with Amir-Abdollahian.
 The lawmaker was referring to four UN Security Council permanent members—Britain, China, France and Russia -- along with Germany.
 Tehran has retreated from many of its commitments under the accord.