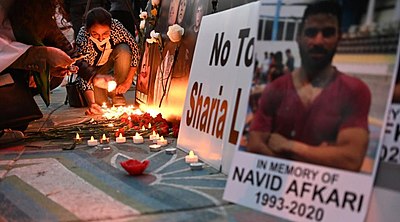 The cowardly murder of Navid Afkari, a popular wrestling champion is a clear example a nation under siege by a brutal, murderous clerical regime that has ruled through terror and barbarism for the past 41 years. He is among thousands of victims who were tortured to death by the Islamic regime ruling Iran. The number of political prisoners in Iran is at an all time high and death rows throughout the country are brimming with youth condemned to death.
We Iranians Protesters have been actively opposing this fascist regime and have tried to awaken the world to their atrocities for a long time. They not only oppress our people but finance international terrorist groups as well. We believe they are a group of stateless, self-serving, bigots who have admitted openly to hating Iranian culture. We have repeatedly announced loud and clear that the majority of Iranian people do not recognize this terrorist regime, its regressive system or its backward constitution.
We believe the solution to be total regime change where this entire system is swept to the dustbin of history. We hereby announce that we are passed the point of no return and will not accept any superficial change in the name of reforming the system. We call for the immediate disbanding of all the regimes quasi-military groups and irregulars like the Basij. The lower echelons of IRGC are with the people and should be merged with the Army but its senior officers who are enablers of the regime must be sacked and put on trial.
We are opposed to any foreign meddling in our struggle against this fascist regime. We look forward to the establishment of a national government that will be representative of all Iranian ethnic groups, that will respect and guarantee the human rights of all its citizens regardless of ethnicity or religion. We want peace and prosperity for our country, for our region, and for the world.
We call on all organizations working on Human Rights as well as the international community to stand with the Iranian people by bringing maximum pressure on this fundamentalist brutal dictatorship.
The following poem by our famous poet Saadi is our motto and describes the essence of our culture:
"Human beings are members of a whole
In the creation of one essence and soul
If one member is afflicted with pain
Other members uneasy will remain
If you have no empathy for human pain
The name of human you can not retain"