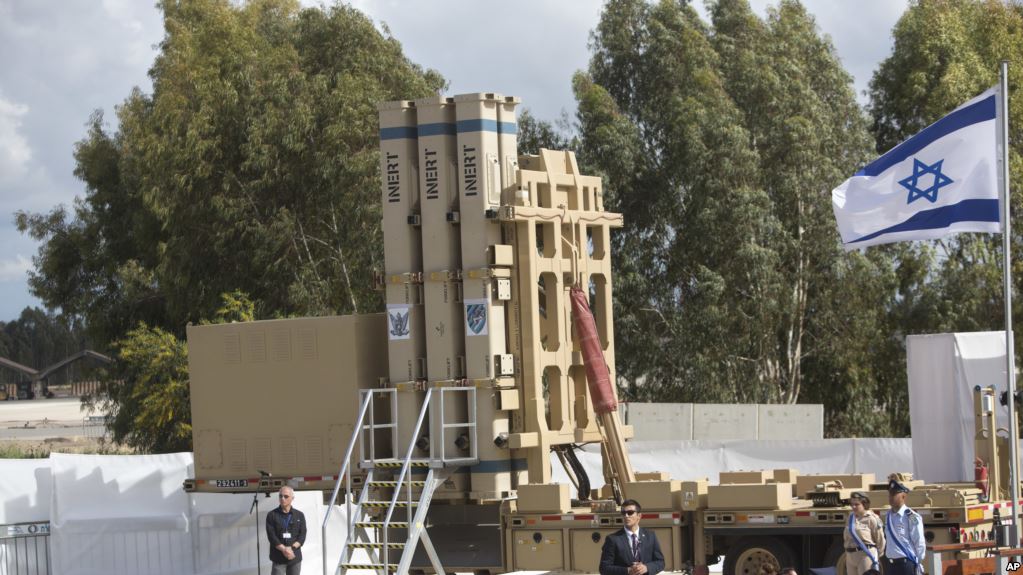 If war breaks out in the Middle East, U.S. and Israeli forces are preparing to one day fight alongside one another to defend Israel against missile attacks from across the region.
If war breaks out in the Middle East, U.S. and Israeli forces are preparing to one day fight alongside one another to defend Israel against missile attacks from across the region.
Nearly 5,000 Israeli and American troops have been training together in Israel for that very scenario. The "Juniper Cobra" exercise includes field training, computer simulations and live-fire drills of sophisticated missile-defense systems.
"We will practice, train shoulder to shoulder, the same as we will fight in crisis times," Brig. Gen. Zvika Haimovich, chief of Israel's air defense command, told reporters at a briefing at the dusty Hatzor air base in southern Israel.
Israel has made missile defense a priority since Iraqi leader Saddam Hussein bombarded the country with 39 Scud missiles during the 1991 Gulf War.
Today, the threat is far more formidable. The Lebanese militant group Hezbollah is now believed to possess well over 100,000 rockets and missiles capable of striking virtually anywhere in Israel.
Hezbollah and Iranian forces are also active in neighboring Syria, backing President Bashar Assad. Gaza's Hamas rulers have a vast arsenal of rockets, and Iran has developed long-range missiles that can reach Israel.
These threats are concrete. Hezbollah rained some 4,000 rockets into Israel during a monthlong war in 2006, while Hamas and other militant groups in Gaza have fired thousands of rockets into Israel from the south. Last month, Israel intercepted an Iranian drone launched from Syria during a clash that caused an Israeli F-16 warplane to crash, and Israel shot down a Syrian anti-aircraft missile last year.
Haimovich said Juniper Cobra is not aimed at any particular adversary. Instead, it is meant to simulate ``very complex scenarios'' that include simultaneous attacks from enemy countries and militant groups.
``We practice that because this is a real scenario,'' he said.
He said the threats include multiple salvos, more accurate rockets and missiles and a "multidirectional threat."
"Those are our main assumptions," he said. ``It doesn't matter if it's from south, north, east or others.''
Israel, in cooperation with the U.S., has developed a multilayer system of missile defense. This includes the "Arrow" system, which can intercept long-range missiles before they enter the atmosphere, the "David's Sling" system for medium-range threats and the "Iron Dome," which has been successful at intercepting short-range rocket fire. Israel also uses the American-made "Patriot" system.
While Israel takes pride in its ability to defend itself, Haimovich said the cooperation with the Americans provides additional depth to its "tool box." About 2,500 American forces are participating in the drill, which began on March 4 and will run through the end of the month.
Lt. Gen. Richard Clark, commander of the U.S. troops, said American forces are ready to deploy in Israel at Israel's request. Once Israel gives the green light, he said American forces could start moving from Europe within two or three days.
Juniper Cobra has taken place every two years since 2001, adjusting each time to cope with ever-shifting battlefield.
With literally "thousands of threats" to prepare for, Clark said the drill is an opportunity for the two allies to improve communication and coordination.
"The ballistic missile defense mission is a very difficult one, very technical one, and it requires precise integrated effort to make it work, and that's what we're developing here," he said.