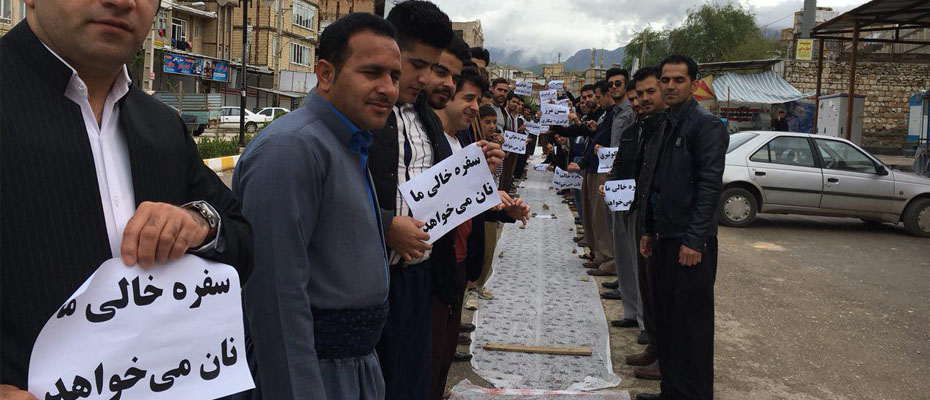 Kurdish shop owners and kolbars protest against Iran's closing of the borders with Iraqi Kurdistan
BANEH, Iranian Kurdistan – Hundreds of Iranian Kurds in border areas gathered on Sunday to demonstrate Iran's border shut down with Iraq and an increase of tariff, protesters talked to Ava Today.

Demonstrators from the Kurdish cities of Baneh and Javanrood, who were still on the streets on Monday, say their life situation is getting more difficult since the Iranian government decided to close down the country's official and semi-official borders with the Kurdistan Region of Iraq. 
"Before the closing of the borders, we could make around 8000,000 Rials ($200) monthly which was enough for us to make a living out of it" Vorya, a Kolbar from Mariwan told Ava Today. "But now we have no source of income."
Importing goods from Iraqi Kurdistan is known as one of the main financial sources for border residents, most of them work as semi-legal cross-border porters known as Kolbar.
Yet, local shop owners declared they are not in a better situation.
"The closing of the borders and increasing tariff have affected us all. We cannot even pay the shop rents anymore," Shamal, an electronic-shop owner from Baneh told Ava Today.
Tehran closed border gates between Iranian Kurdistan and Iraqi Kurdistan Region after an Independence referendum held on September 25 by the Kurdistan Region.
"We cannot import anything. But even if we do, the prices would be as high as in Tehran," he said, explaining that their trade will be without benefit if tariffs remain high.
Kurdish traders and shop owners said their protest will only end if their basic demands are met.
Another Kurdish resident, Abdul, who is a Supermarket owner from Javanrood, also believes that the closing of the borders, raising tariff and depreciation of Rial have affected the market badly. But he identified increased tariff as the market's main problem.
Iran's national currency (Rial) to US Dollar reached a record low around 50,000 in the free market this week, compared with 47,800 last week, and 35,570 in mid-September.
"Before the raising of tariff, even when the semi-official borders were shut-down, we could make a living by selling out the goods to Iran's central provinces," he said. "But as the tariff increased, it become a worthless trade, because the prices are the same," Abdul added.
"The government have no problem with opening the semi-official border of Sheikh Sala, but Sepah (Iranian Revolutionary Guard Corps) is interfering," he has concluded.
Iranian local authorities called the demonstration "illegal", urging protesters to end it.
Nezhad Shahidi, the head of Security Council in Mayoralty of Bane called the demonstration "illegal" and said foreign hands are behind the protest.
"Today's protest was not permitted, so it is illegal," Shahidi told IRNA, Iran's official news agency. "Foreigners has the main role in encouraging people to go on strike and protest," he added, not mentioning who the foreigners are.
Shahidi said the closing of the borders came upon Baghdad's request and that Tehran has no role in it.
The Kurdish protesters, in response, accuse the Iranian authorities of cutting off the only source of income for the border residents.
Mohammad, another Kolbar from Baneh told Ava Today that the shutting down of the borders by government made them jobless as there is no other jobs in the border areas.
"What should we do? There is no factory, no company, what are we supposed to do?"
Kurdish authorities in Iraq has also reacted to the closed borders.
Nechirvan Barzani, the Prime Minister of Iraqi Kurdistan Regional Government (KRG) said earlier to the region's media channel that they hope closing the borders are only temporary. He believes using this card to increase pressure on Kurdistan region will not serve anyone and doesn't solve the problem.
"If this (closing the borders) is meant to put pressure (on the Kurdistan Region), it will not resolve anything. This will neither serve Tehran nor Erbil," the Kurdish Prime Minister declared.
This is the third protest in Iranian Kurdistan against the decision of closing of the borders and increasing tariff since the beginning of 2018. Shop owners of Baneh and Saqez, another Kurdish city, has closed their shops in protest for three days, earlier this month.