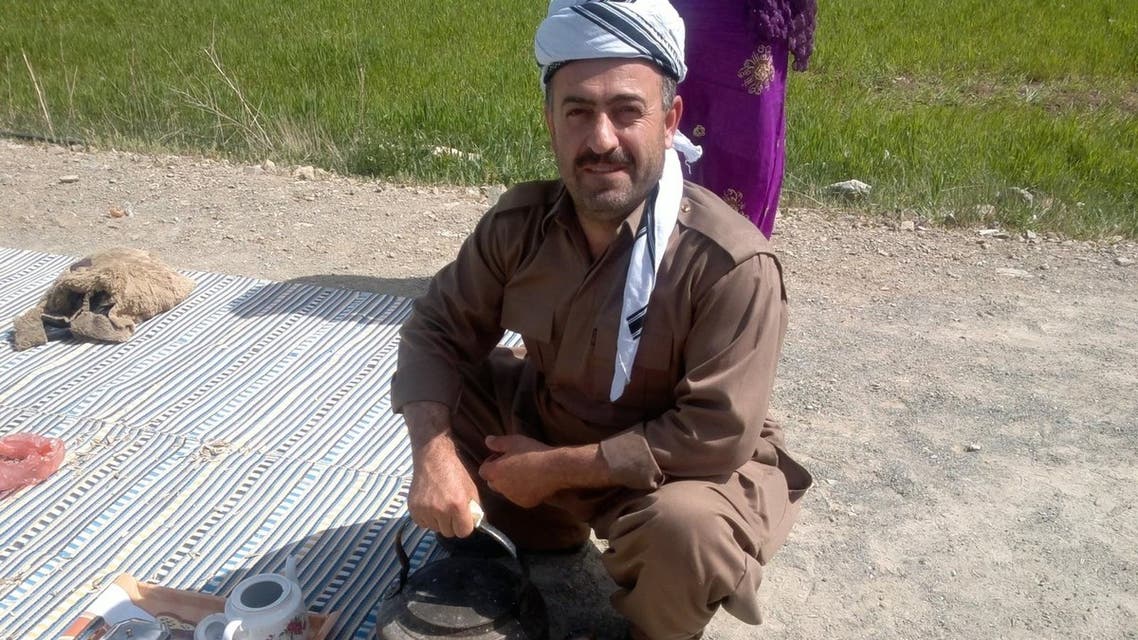 Haydar Ghorbani, a 48-year-old Kurdish political prisoner on the verge of execution in Iran, was tortured and forced to confess that he assisted the killing of three forces, his former cellmate Ebrahim Yousefi has revealed to Avatoday.
Ghorbani was accused of having role in the murder of three IRGC members in 2016, and sentenced to death on the charge of "armed rebellion against the state" (Baghi) by the Revolutionary Court of Sanandaj in 2019.
In a report, Amnesty International said Ghorbani was never armed and has been wrongfully convicted in an unfair trial based on confessions obtained through torture.
His former cellmate said in 2017 that he stayed with Ghorbani in a cell for 50 days in Kamyaran prison, in Iran's Kurdistan province. He claimed he saw evidences of severe torture on Ghorbani's body while in prison, including wounds on his left hip and both wrists.
"When I asked him about his injuries, he told me he had been hung from the ceiling," Yousefi says. "I gave him my lower bunk bed, as he could not climb up to use the top ones."
"He had screamed and shouted so much that his throat had gotten infected, and therefore could only eat simple foods," Yousefi added.
"They would take him for interrogation every night. When I asked him about it, Ghorbani said intelligence agents were filming him for a documentary, after which he would be released as he was told by them," Yousefi explained.
The mentioned documentary called "Death Driver," aired by Iran's state-run PressTV channel in 2017, in which Ghorbani confesses to his alleged role in the killing of three IRGC members.
"Ghorbani told me Mr Karimi, the head of Sanandaj police department, had beaten him and ordered his agents to torture him, and that agents of Sanandaj, Kermanshah, and Kamyaran police depatments had raided his home to arrest him," Yousefi continued.
"The intelligence agency is insisting I take the blame for this crime. I was not involved, I had no hand in it, I did not shoot anyone," Yousefi claims Ghorbani told him.
Yousefi said: "In my final conversation with Mr Ghorbani last year, he said judge "Seyedi" had told him he knew he was innocent but that the intelligence agency was insisting they execute him".
During his interview with Avatoday, Yousefi talked about his own experience of recorded forced confession, saying he was arrested by the police and given a pre-typed statement to sign, incriminating him in "riots" in Kamyaran in 2005, even though he had been in detention at the intelligence agency at the time of their occurrence.
"I had to read a forced confession in front of the camera, otherwise they would have killed me," Yousefi says. "I was blindfolded, and my hands were tied and wounded. I was mocked and sexually assaulted," he continued. "I have been suffering from severe depression as a result of their brutality for the last 16 years."
"In prison, when you are a cellmate with someone, you become really close, and you tell them everything. Haydar is innocent, believe me. I asked him throughout the 50 days I was there, and he told me he is innocent and that he never played any role in these murders. It's just that the intelligence agency wants Haydar executed," Yousefi concluded.