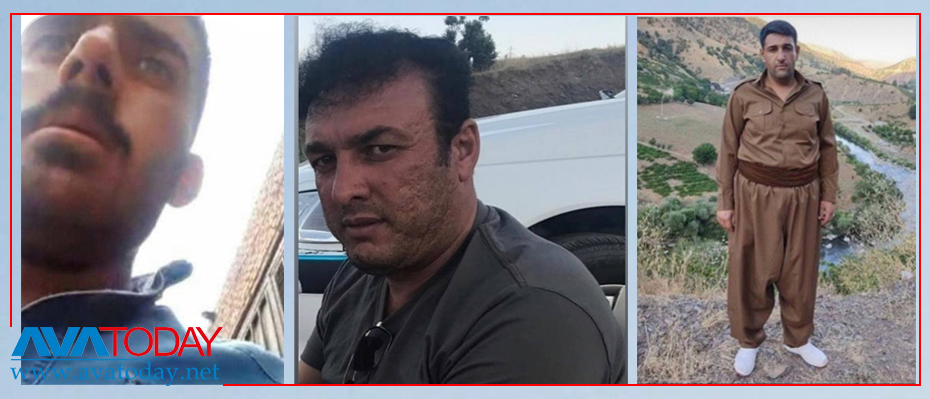 از راست بە چپ:  کامران عبداللهی )مارغان( رضا سیدی )کوله سه( و علی آتین
Dozens of young women and girls became victims of rape in the city of Sardasht by a gang affiliated with the Islamic Revolutionary Guard Corps (IRGC), Avatoday's sources in Sardasht have reported. 
According to these sources, at least 45 women have been raped, of whom at least 10 have committed suicide as a result, in this Kurdish city in northwestern Iran 
The four main members of this rapist gang, who are all linked with the IRGC and are armed with their weapons, have been identified by Avatoday's sources as Kamran Abdollahi (Marghani), Reza Seyedi (Koleh Seh), Shooresh Qaneh, and Ali Atin. 
Two of them (Reza Seyedi and Ali Atin) have been detained following a complaint filed by one of the victim's family, but despite the confession of one (Ali Atin), through IRGC's mediation, bribery, and tampering with evidence at forensics, they are due to be released, our sources said on condition of anonymity. 
One of the main gang members, Reza Seyedi, is a criminal who murdered his sister a few years ago but was acquitted with the help of the IRGC. His brother, also a culprit, has made rape threats against the family of one of the complainants and the familiy of a civil activist in Sardasht, and anyone who protests against the members of the gang. 
Based on what our sources have said, this gang is also involved in the manufacture of illegal drugs. 
One of the victims, who wished to remain unidentified, has told Avatoday that she was raped in a car on the Sardasht-Rabat route by a gang of five members, one of whom she identified as Kamran Marghani, but says she did not speak of this crime for fear of loss of "family honor". 
Another eyewitness said that Marghani and an his fellow attacked a group of four women including herself with cold weapons in the outskirts of Sardasht, wanting to abduct them. "Once I said what family and tribe I belonged to, and that we were going to get them back, they got scared and backed down," she added. 
Moreover, it is said that new members were brought in and forced to participate in their crimes, aiming at increasing the number of culprits and expanding the group. 
The gang members have also been spreading false information through suspicious websites for the purpose of deceiving the public and instilling doubt about the validity of this revelation. 
On Saturday, September 25, a group of civil rights activists gathered in Sadasht's city square in support of the victims and their families, condemning these rapes and demanding that the culprits be brought to justice, Hengaw reported. 
The city's prosecutor Khoda Karami has threatened to deal with any gatherings and disruptions. 
Sardasht's chief of police Mousa Bahari informed the protesters that three of the gang members had been arrested, one of them told Hengaw.
Hengaw has also said that the family house of a Switzerland-based Iranian women's rights activist, Naskeh Afkhami, who publicized the rapes, was attacked in Sardasht with explosive materials reportedly by unknown individuals on Thursday, September 23.