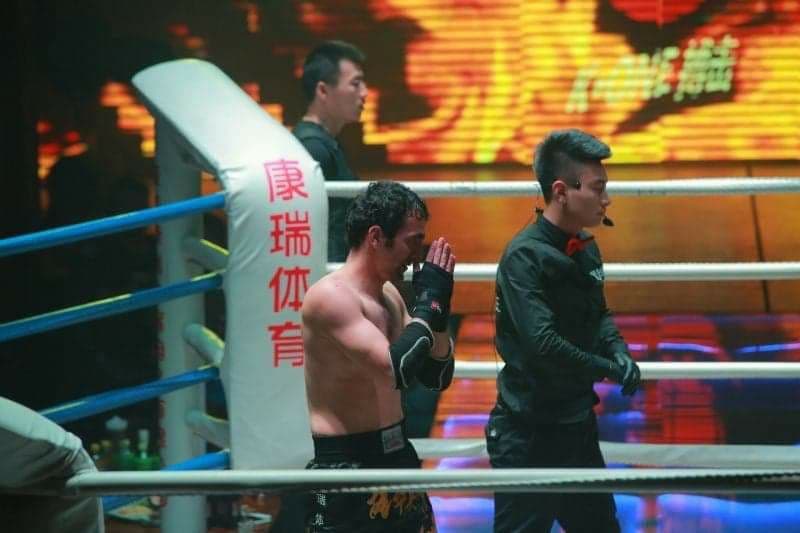 Farshad Derekeh is a Kurdish kickboxing champion with UN refugee status in Thailand. He fled the Islamic Republic's dictatorship in Iran and applied for asylum to the United Nations in Bangkok, being unaware that the UN had no authority in Thailand. He is now under the increasing risk of deportation. 
Derekeh is regarded as an illegal immigrant in Thailand and is in danger of being arrested, detained and transferred to prison at any time. The Thai people and even the coaches at the clubs he trains at, have constantly reported him to the police as they failed to understand his predicament and regarding him only as an illegal immigrant. The UN is powerless at helping him and just advises him to avoid getting caught. Each time Farshad gets arrested, he has to pay heavy bribes to be released. He is continually on the move, to escape the trap of bribe-takers, of both the ordinary people and the police.
Farshad's story starts in Kermanshah, Iran, where his home was. His father banned him from their family house because he was only focused on exercising and preparing for fights. Farshad said his father threw him out because he only cared about sports and did not think about "work and living". Farshad packed his bag and left for Tehran as a result. There he spent the cold nights without shelter in parks, and later found a job in a pomegranate shop, where he worked every day until 2 in the morning, washing dishes and peeling pomegranates.
One day it all got too much for him to bear. The homelessness, poverty, loneliness, neglect and lack of support, all the things that had caused him to think about suicide many times before, led him to hang himself. As he was gasping for air and breathing his last breaths, his friends arrived and released him from the rope he was hung on.
Later, Farshad participated in the national team. He attended the 2012 world kickboxing championships—in which 70 countries took part— and won a gold medal. He was selected by the jury as the best of 2012 for his extraordinary fighting skills.
The Iranian officials wanted to use Farshad's accomplishment to their advantage, as a sign of their own good performance and positive achievement. Farshad was concerned and saddened by this, and could not stay silent.
He remembered how his father behaved badly towards him and the love he had never received from him, probably because of the physical and psychological wounds his father suffered during the Iran-Iraq war.
Derekeh blamed the Islamic Republic regime for the war and for ruining his father's social life. Consequently, he could not allow the regime to take credit for his success and to include his medal in the list of honors of the board of the national federation.
Farshad also experienced a lot of discrimination by the Islamic Republic regime because of being Kurd, a minority ethnic group. But he continued to fight. His true story was broadcast through various media outlets, and the Iranian politicians did not like it, and as a result he was persecuted, beaten, and deprived from competing. Farshad never backed down, saying "This is what I believe in, what I am willing to die for, and nothing can stop me from exercising". 
His persecution by the Basij and under-cover IRGC agents—in the form of detainment, torture and death threats—left him with no other choice but to leave the country.
He left for Thailand to compete in fights, and in Bangkok he applied to the UN for asylum. He has been granted refugee status by the UN, but because the UN has no legal status in Thailand, refugees are often harassed, discriminated against, and abused by the people, police and government in this country.
Despite his difficult circumstances in Thailand, Farshad still managed to participate in professional competitions and won them all. He knocked out the Australian heavyweight world champion, the Thai opponent, and the Chinese champion, all with extraordinary technique, and won the world championship belt.
Farshad got invited to compete in China, Australia and Europe, but as an illegal immigrant, he was forced to live a secret life away from the police. He suffered depression, but still remained in the race and managed to beat his strong opponents.
He won against them all: the Australian, Danish, and Austrian champions, the Chinese champion holding the World Championship Belt, the Swedish champion holding the Muay Thai World Championship Belt, the German, Icelandic and Russian heroes.
With all his accomplishments, Farshad has yet to taste the sweetness of success and happiness. He escaped from a prison ruled by the Islamic dictatorship in Iran only to be stuck in one without bars in Thailand.
Farshad Derekeh, who studied firefighting at the university and wanted to become a lifeguard to save people's lives, never thought he would be in a situation where he could not even help himself.